The purpose of the Orford Historical Society is to assist the residents of the Town of Orford in preserving their history and heritage for their appreciation and understanding, as well as for that of future generations.
Established in 1996, the OHS is a self-supporting, non-profit educational organization, with membership open to all who are interested in the history of Orford. We regularly present five programs each year, including walking tours and other home grown events drawing on the knowledge and experience of local residents. Working with students, we published an historical guide to the town, and more recently an illustrated collection of Orford-based poetry by Dot Pierson. Our growing collections include artifacts, photographs, letters, and documents.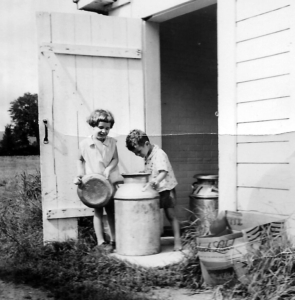 A sister and brother searching for cream on an Orford farm back in about 1962. Who are they?
Donna Lawless (President)
Richard Donham (VP), Special Projects – PastPerfect, Nominations
Sam Hanford (Secretary), Community Relations (overall head, especially PR)
Beverly Andrews-Potry, Community Relations – Events, Special Projects – Oral Histories
Priscilla Clark, Exhibits
Ann Green, Fund Raising – Membership Chair
David Smith, Special Projects – Oral Histories
Please visit the new Farming History Exhibit at the Town Hall Heritage Center in Orfordville officially opening Saturday, July 27, 2019 from 10 a.m. to 1 p.m.
UPCOMING EVENTS:
GROWING UP ON AN ORFORD FARM IN THE 1950's – 1960's
On Saturday, February 29, and partnered with the Friends of the Orford Libraries' Soup Supper event, we'll bring together a panel of Orford residents who grew up on a variety of working family farms in Orford during the 1950's and 1960's to share their memories of what their lives were like during those years.
What was it like to grow up as a member of an Orford farm family?  What was that life really like then?  What kind of daily chores and responsibilities did young people have to help keep those Orford family farms functioning?  How was all that balanced with school work and other activities?  And what special things did they do for fun?  Plus memories of other farm families, neighbors, unexpected events, and perhaps even getting into trouble.
Panelists Christine Bunten, Joy Jean Wilson Dyke, Debbie Tullar O'Brien, Harry Sanborn, and George Schwarz will be moderated by Art Pease.  Please do plan to join us for this special evening.
Schedule:  Saturday, February 29, 2020:   Friends' Soup Supper, 5:30 – 6:45; "Growing Up On An Orford Farm in the 1950's – 1960's", 7:00 at Orford's Congregational Church, Main Street
Orford Historical Society
P.O. Box 44
Orford, N.H. 03777
(603) 353-9307, 353-2139
Email: orfordhistory@gmail.com
Facebook: Orford Historical Society
Twitter: @OrfordHistory