Appalachian Trail http://www.appalachiantrail.org/home/explore-the-trail/explore-by-state
On Line Guide to Appalachian thru-hike
Daniel Doan Trail to Smart's Mountain – Formerly named the Mousley Brook Trail and once part of the Appalachian Trail, it was renamed in 1993 in honor of Daniel Doan, author of 50 Hikes in the White Mountains, 50 More Hikes in New Hampshire, and several other books. There is a small parking lot for the trail at the end of Mousley Brood Rd., a spur off of Quinttown Road. Hikers should be aware that the trail starts out on private land, soon passing a house whose owners have horses; hikers' dogs should be leashed here. Farther up, the trail climbs through private land under conservation easement. The upper section passes through land within the Appalachian Trail corridor, though this route is no longer part of the AT.
Indian Pond Heritage Trail – The Indian Pond Heritage Trail follows a path that was traveled by early settlers as well as Native Americans. It is believed that this path was a main travel route and portage path for early Americans from the lakes region of New Hampshire to the shores of the Connecticut River. A number of cellar holes and a schoolhouse indicate substantial habitation in the past. The Indian Pond Heritage Trail follows the path of the old Grimes Hill Road. The trail's western terminus is located off of the current Grimes Hill Road. It then travels approximately three miles as it crosses Indian Pond Road and ends roughly one mile past the junction. The old roadbed continues until its eastern terminus at the junction with Route 25A.
Orford Mall Walk – The Orford Mall Walk was designed by two of Orford's founders and laid out in the early 1800s. Leading south from the Town's East Common, set back from the road and lined with trees, the Mall Walk served the community as a pedestrian walkway and scenic attraction of the village for over 200 years.
QUINTTOWN ROAD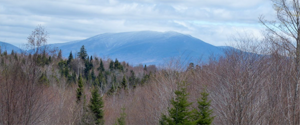 Reward: Wild, secluded ponds with wildlife; beautiful view of Mt. Moosilauke; wildflowers in May, lupines in the third week of June; Jacobs Brook waterfalls along the way. Picnic tables.
Length of hike: 4.4 miles, 780 feet
Ease of use: A maintained gravel woods road (continuation of Quinttown Road) after the gate with the parking area.
Website: https://www.vnews.com/Seeing-the-Forest-for-the-Lupines-2958766
Directions to trailhead:
North on Route 10 to turn right on Rte 25A in Orford, past Orford Center, to turn right on Quinttown Road to 487 Quinttown Rd Orford, NH 03777
(https://goo.gl/maps/STjU3Gb3Xq22jpQm8)
Suggested carpool meeting point:
Rivendell Academy athletic field parking lot, opposite School Drive, Orford, NH 03777
EASTMAN LEDGES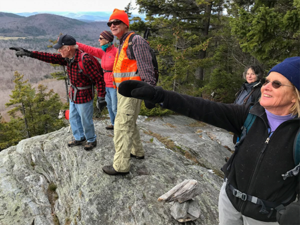 Reward: Beautiful views of Smarts Mountain; Jacobs Brook waterfalls along the way.
Length of hike: 2.5 miles, 710 feet
Ease of use: Excellent, follows gravel Quinntown Road after gate, then left on the Appalachian Trail. (Continues to Mt. Cube via Hexacube Shelter.)
Website: http://mountainwandering.blogspot.com/2010/04/kodak-trailmt.html
Directions to trailhead:
North on Route 10 to turn right on Rte 25A in Orford, past Orford Center, to turn right on Quinttown Road to 487 Quinttown Rd Orford, NH 03777
(https://goo.gl/maps/STjU3Gb3Xq22jpQm8)
Suggested carpool meeting point:
Rivendell Academy athletic field parking lot, opposite School Drive, Orford, NH 03777