Veterans' Day Celebration in Orford – 2019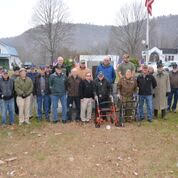 Veterans' Day Celebration in Orford – Twenty-five Veterans, Service Members and their numerous guests from Orford, Fairlee and other nearby communities took part in the Annual Veterans' Day Celebration at the Orford Congregational Church at midday on Monday, November 11th.  Following a served lunch and a commemorative program providing biographic information about individual area veterans was presented by its creator, Sue Martin of Piermont, participants assembled at the adjacent military service monument for the Pledge of Allegiance and a ceremonial flag raising.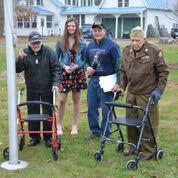 WW II Veterans Raise Flag.  World War II veterans Herb Hodge (Fairlee – Navy) and Ken Uline (Lyme – Army) together with Celebration Organizer and Viet-Nam veteran John O'Brien and 10th Grade Rivendell student Emma Marsh join to help raise the American flag.